Message from CEO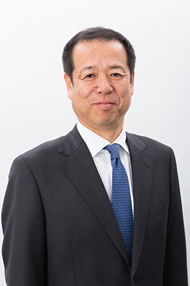 It will soon be five years since SoftBank C&S was spun off from the former SoftBank BB Corp. With the patronage and support of our customers, we have steadily improved our business results. I would like to take this opportunity to express our sincere gratitude.
As technology continues to evolve, IT businesses are significantly changing. We regard these changes as a great opportunity to expand and push forward with investments in business for the future.
In the midst of accelerating the introduction of advanced IT infrastructure and cloud service businesses, our corporate business provides perfect solutions for customers from among the latest domestic and international products and services created by Japan's top-level technical support system in collaboration with the SoftBank Group.
Our consumer business is also expanding Japan's largest-scale software and smartphone accessories business, and at the same time, we have started creating a new business model using the latest technology while taking advantage of our planning and development skills as a manufacturer.
Since Softbank Corporation started distributing software, we have been evolving into a company that has new strengths with our expansion into the general distribution, manufacturing, and service businesses. Furthermore, we will change our name to SB C&S Corporation this January and embrace a new stage in our development.
Even during a period of drastic change in which all businesses will be redefined, SB C&S will take advantage of this opportunity to evolve. As the best partner at the leading edge of the era, C&S will continue to take the initiative in proposing evolution.
All of our employees will continue to focus on providing superior services that deliver customer satisfaction. In closing, I would appreciate your continued support and encouragement.
Yasuo Mizoguchi
SB C&S Corp., President & CEO